Slipgate Open! Reinforcements incoming!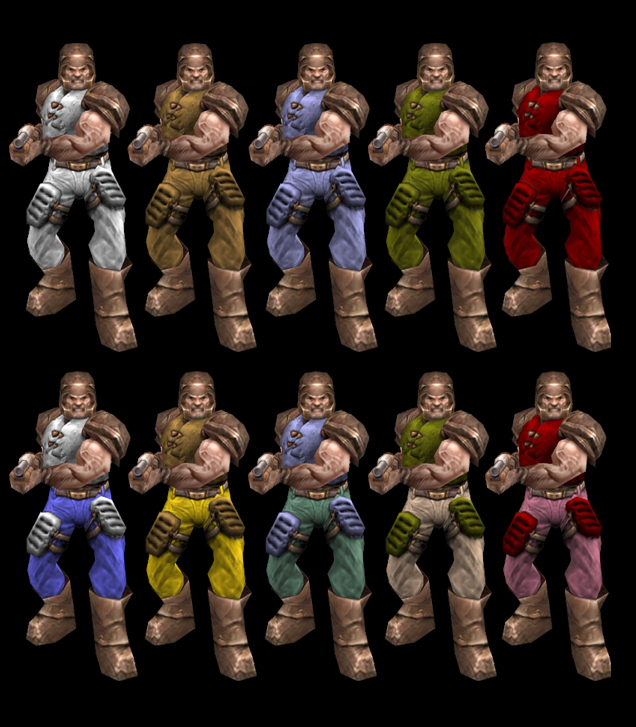 FULL SIZE WITH ALL COLORS

Portals are opening all over the place and a flood of Slipgate rangers from various divisions are pouring through! The battle will be a tough one, but the Strogg threat has been greatly diminished with these new heroes fighting on to save the day.

Introducing: Quakeworld Colors! The original Quake allowed you to choose a combination of shirt and pants from 14 built in color selections. We had a somewhat similar system hacked in for .99f, but it was time to step up to some real classic shaderizing. The screenshot is an example of some combinations available. In the full screenshot, we have identical shirt and pants colors on the top row, and differing colors on the bottom row. Colors for the shirts on both rows (and pants on the top) are 0 through 13 going left to right, and pants on the bottom row are 0 through 13 going right to left. Any combination of shirt and pants colors will be possible, just like in Quakeworld.

The Arenas have settled into an overall stalemate for now, with each faction rising and falling for position, but nobody claiming a definitive dominance - which is just how the Vadrigar planned it. With all the desired combatants gathered, it's time to focus on improving the games themselves. Wirehead will be working on fleshing out the menu system, restoring the Q3 single player campaign (with a twist), getting out the bug spray, and shining up the engine. There's still a lot of work to be done, most of it under the hood, but rest assured Generations will keep revving along toward that release everyone's been craving!